Looking for ideas for your next birthday party? Look no further! Choose from a range of unique birthday party themes to make the occasion a fun and memorable one. Birthday party themes can allow for all ages to get involved, setting the tone for the birthday and making it an occasion to remember.
Boy birthday party themes
Boy birthday party themes 1 – Lego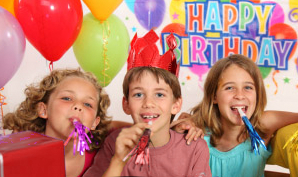 Deck out the party with Lego centrepieces, a bucket of Lego for the kids to play with and some creative touches like Lego block cookies and Lego cake. Create a few Lego baskets and use them for a place to put you chips and nibbles. Hand out some face masks to the kids upon entry of their favourite characters which they can wear throughout the day.
Boy birthday party themes 2 – Super Mario
On entry, each guest gets a choice of 3 face masks, Mario, Luigi, or princess peach.
As for decorations you can use star balloons, mushroom cupcakes, white balloons bunched together near the ceiling, and a few pictures of the main characters. On the tables place some novelty fake moustaches and chocolate coins on the table.
Boy birthday party themes 3 – Ben10
A green and black theme. Create some cup cakes with the famous Ben10 logo on it. Have a screen playing the Ben10 series in the background so all children can see. Buy some small figurines and have a hide and seek challenge when they have to find some Ben10 figurines which they can keep. Have some face masks made up of the characters and get the children role play the characters they are wearing. All children are judged on their acting skills by an adult.
View more boys birthday party themes
Girl birthday party themes
Girl birthday party themes 1 – Peppa Pig
A sure favorite for girl birthday party themes as Peppa pig becomes a household name. A pink themed party, have plush toys dispersed around the room with cut outs of the favorite characters displayed on the walls and the TV series on a screen playing in the background. Play the musical chair game but replace the chairs with brown cardboard cutouts of muddy puddles. Each time you restart the game, you take away a muddy puddle.
Girl birthday party themes 2 – Princess
A pink, purple and white theme. As each guest arrives, add a touch of blush to their cheeks and give them a tiara and crown to wear. Create some raspberry sandwiches cut into love heart shapes along with some pink lemonade.
As an activity have the children decorate their tiaras and crown with gem stones, stickers, and glitter pens. Once everyone have finished, its time for a parade. Have them parade around the venue with some musical instruments such as tambourines or drums along with some background music.
Girl birthday party themes 3 – Minnie Mouse
A pink and white theme. On entry, each guest receives a pair of Minnie mouse ears with a big pink bow. Disperse cut outs of Minnie mouse around the room and put pink buckets with a photo of Minnie filled with plush toys for the children to play with. Print out a copy of Minnie mouse and laminate to use as a place mat. Create some cupcakes with two chocolate buttons to represent Minnie mouse's ears.
For a fun activity, have the children create thumbprint mice. Have the children lightly dip their thumb in ink (Stamp pad) and press it on a piece of paper, with some markers or crayons, they must then draw ears and a tail to turn it into a mouse.
View more girl birthday party themes
Teenager birthday party themes
Teenager birthday party themes 1 – Black light party
teenager birthday party themesGo to your local hardware shop or variety store and buy some black light bulbs to place at your party venue, as well as purchasing plenty of highlighter pens in different colors. Tell all your guests to wear some cheap white t-shirts to the party. The UV from the black light will create a purple glowing effect.
When your guests arrive, hand them all a high lighter pen and get them to start writing and drawing on each others t-shirts. As they walk into the room, the ink from highlighters will be emphasised, creating glowing effect. Has to be one of the best teenager birthday party themes to get them into the spirit and making the party a night to remember.
Teenager birthday party themes 2 – Tiffany & Co
The main aspect of the party is to ensure that the color them is white with the famous Tiffany blue. A good party shop should have this color in stock. The tables and chairs should be covered in the two colors (Such as table cloth, table runners, seat covers, etc). A table to display the Tiffany cake and sweets should the centrepiece of the party with color matching boxes to resemble the packaging which Tiffany and co use. Macaroons and chocolate sweets incorporating the Tiffany blue should also be considered to match with the party theme.
Teenager birthday party themes 3 – Famous rock stars
Condition of entry is that all guests must dress as a famous singer and stay in character. Singers could include Michael Jackson, Elvis Presley and so on. Run a red carpet down the hallway into the main room which has a disco ball and old CD's hanging from the ceiling. A karaoke machine and disco lights can also be to add to the atmosphere and get everyone into the spirit of the theme. A cake shaped as an electric guitar can be the centrepiece of the party.
View more teenager birthday party themes
Adult birthday party themes
Adult birthday party themes 1 – Pimps & Hoes
One of the best adult birthday party themes to keep the laughs going throughout the night. Each guest is to dress up as either a Pimp or Hoe. They will later be judged by the audience for best dressed Pimp and Hoe for the night. On entry they will be handed novelty bling, fake money and walking canes to help them get into character for the night. Leopard and tiger print sheets can be used to cover walls with a TV screen playing old school RNB and Hip-hop music videos in the background.
A stripper pole can be incorporated into the theme to have a pole dance off where both pimps and hoes battle it out to see who it the best pole dancer for the night. Even consider getting an experienced pole diva to give tips to party guests.
Adult birthday party themes 2 – Doctors & nurses
Each Guest is to dress up as either a doctor or nurse. With a hospital theme in mind, a white backdrop with a graph of the human skeleton, an eye test and red platters with colored food dye will do the trick. On the drinking cup, stick a band aid on the outside of each one and use surgical tools for food utensils. Have a couple of the game 'Operation' on the tables so guests can test their skills throughout the night.
Adult birthday party themes 3 – Gym junkies
Each guest is to dress up as your typical gym junky. Drinks and alcoholic beverages are served in protein shakers. Dumbbell cookies, chocolate protein balls and a dumbbell birthday cake are great displays for a centrepiece. Towards the end of the night organize for their to be a pose down with each guest being in groups doing different poses. The winners are to be crowned Mr and Mrs Gym Junky.
View more adult birthday party themes