Putting a birthday speech together can be a very daunting process, especially if you have to write it for someone else.
Like many of us, unless you have a natural talent, it's not uncommon to go blank when it comes to this topic. The usual spiel of thanking everyone and telling them to enjoy their night is satisfactory though can be quite boring and leave everyone yawning.
But dont worry, by following these easy tips and examples of speeches, you will be able to ensure your birthday speech is one that captivates your audience and makes the moment a memorable one.
5 tips to help you with your next birthday speech
1. Write it all down
Take a few moments to list all the qualities and funny moments in dot points to give you an understanding of what you want to highlight. After listing them all down, take the time to elaborate on the points.
2. Find a sample speech that works
Find a sample birthday speech that you feel is suitable for the occasion. Use the points and information that you had written previously and incorporate them into the sample speech. By using the sample speech as a template, you have the benefit of following a proven recipe. It allows for the speech to be structured so it becomes fluent and highlights your points more concisely.
3. Engage your audience
Add humor to the speech to captivate your audience with a few laughs to enhance the vibe of the event. Not sure what to add? Why not take a moment to ask a close friend or relative of some funny moments they have experienced with the birthday person. If the stories are not suitable or non existent, then consider looking up some great one liners and add them into your speech to lighten the mood.
Your aim is to ensure the audience is actively engaged in your speech by focusing on the qualities of the birthday person which they can relate to. Bringing up memorable stories which highlight great times or milestones helps to resonate qualities of the birthday person and Incorporating a story or two can also make a point of enhancing the qualities which resonates what that person is really about.
4. Show sincerity
Towards the end of the speech, mention a few kind words to show them that you care. Thank everyone for coming, especially those who helped out in organising the event.
5. Keep it short
When people are at a party, they tend to have a short attention span and that's if they haven't had a drink yet. A speech which is between 2-5 minutes long is more than sufficient. By keeping it short, deep and meaningful, you can be sure to have your audience's attention.
How to give a birthday speech – From friend to guest of honor

Here are a few examples of free birthday speeches for your next occasion:
Birthday speech example 1 – Thank you speech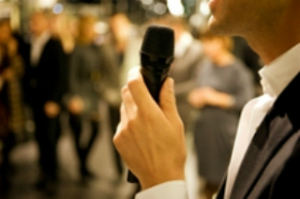 Firstly I would like to thank you all for coming to celebrate this milestone with me. I am not one to come out and say a speech, this is actually the first for me. Normally I would shy off, though I feel today is a time where it must be done.
The reason why you are all here is that in one way or another, you have been apart of my life and moulded me to the person I am today. I would truly like to thank you all for that.
I would like to thank both my mom and dad for not only putting up with me but being there when it counted and making me who I am. Thank you! Also to those who I have grown up with and have helped me over the years, you know who you are… I can say that I am truly blessed to have you all in my life!
Last but not least, I need to say thank you to everyone who has helped to set up and make today happen. Now that's enough of me saying thank you. I hope everyone enjoys themselves. Lets all have a drink and have a great time.
Birthday speech example 2 – Thank you speech
I want to take a moment to say thank you for everyone who has come down to come celebrate this birthday with me. It means a lot that you have all taken the time and I must say that I am blessed to have each and every one of you in my life. Thank you
Birthday speech example 3 – Thank you speech
A birthday is very important to a child. The cake, the candles and gifts are something which they which they look forward to weeks on end. As we get older, we begin to realize that more important than materialistic things are the things we celebrate to those who are most closest to us. I would like to say thank you for not only your best wishes and lovely gifts but for being here and making it the night that it is. Thank you.
Birthday speech example 4 – Coming of age and gratitude
I have to say that I am not one to perform any birthday speeches though with the amount of work which was put into making this night and the sheer turnout of people, I simply could not live with myself if I didn't at least say a few words.
I would like to give a big shout out to all people involved it the planning of this special day of mine. As you all can see, a lot of time and effort has been spent to make this venue look beautiful and I am truly appreciative. Thank you.
For all of you who made the effort to come down here and celebrate this milestone of mine. I could not be happier as all of you in one way, shape, or form have shaped me to be the person I am today and for that I am eternally grateful. Through good times and bad, through sickness and in health, I have been supported and guided every step of the way and that has only reassured to me what really matters in life.
I have been quick to learn that all the flashy and shiny things in life slowly begin to fade, though the one thing that continues to shine in my world is the true connections and relationships I have formed with my family and friends.
So enough about all this sentimental nonsense. It's time to put the music back on and get everyone back on this dance floor. Thank you all for coming and I hope you enjoy the night. Thank you!
Birthday speech example 5 – Coming of age
So whilst I am up here talking about this amazing day today we are celebrating, I have to say all the beautiful memories don't I? Wrong. All I remember is the most embarrassing moments because I laughed so hard my glasses fell off my head, then I wasn't too happy because I had to buy new ones.
So where do I start, my memory isn't the best the older I get, that's why my wife makes me do a crossword puzzle a day. Little does she know that I cheat from the answers on the bottom of the cross word page Ha-Ha. So as I get older and reflect, I would have to say best moments through out my life would have to be drawn to three main beautiful ones.
First would be marrying this beautiful lady I call my cook… I mean wife Ha-Ha.
Second would be becoming a father to these beautiful children standing in front of me, I am blessed to have the opportunity to raise these amazing children of mine and have never been more proud.
And thirdly, to the many people here today celebrating my birthday. I would not be the person standing here before you if it weren't for each and everyone of you shaping me to who I am today.
I felt like writing this speech took me few minutes though I was told I was writing for most of the bloody day! Ha-Ha.
Thank you everyone for coming here today and celebrating this unforgettable night with me celebrating another year younger.
Birthday speech example 6 – For partner
Let's face the truth. Some of us are not the best when it comes to remembering birthdays, but there is no way I could forget the birthday for the one I love. We are all here today to celebrate because (Name) has touched our lives in one way or another.
Today I want to openly say how much they mean to me. This is their birthday, and birthdays are supposed to be days which stand out in life. So (Name), I want to say thank you for being so caring over the years and making me so proud to be your partner.
Birthday speech example 7 – Birthday speech for husband
To the superman in my life. Happy birthday! Words are unable to express the amount of love I have for you. For anyone who knows you, knows how much of a kind hearted and bubbly character you are. Your generosity and strong nature are unlike no other I have ever met.
From when you came over to me over 20 years ago to ask me for my number, to building a strong relationship, falling in love, creating an incredible family, and now celebrating this milestone of yours today. It seems like a fairytale dream where I need to pinch myself every so often to believe that it is all true.
To all of you that have made the time to make it here tonight, thank you all for coming. Only people who were important to his life are here and it's amazing how many people are actually here tonight.
Now back to my loving husband, on your birthday tonight, I want you to enjoy it without a care in the world, because a man like you deserves to be spoilt once in awhile. Happy birthday my love, may you continue to live with passion.
Birthday speech example 8 -Birthday speech for wife
To one of the most sexiest, beautiful, most amazing person apart from myself… Ha-Ha! To my incredible wife. I am unable to express how surreal it feels to have fallen in love and married such a beautiful soul. Never would I ever have thought i'd be so lucky to have such an angel like you in my life. Your smile, your character, your loving nature are just the tip of the iceberg of the many things you possess.
For all who are lucky enough to know her, understand that she is one who would do more for others than she would for herself. A quality which i'm sure we all agree is very rare these days. She always looks to see the positive in life, no matter how dark and gloomy things may be, something which she has allowed for me to adopt which has changed my life dramatically for the better, and i'm sure many others who are also here tonight.
To those who made the effort to come here today and celebrate this beautiful day today, thank you. You have made this day memorable and something i'm sure my wife will never forget. Now the party is still not over, so all of you grab a glass of champagne, and let's party on well into the night as we celebrate this girls beautiful birthday.
Birthday speech example 9 – From mother to child
From changing your nappies to feeding you every time you cry, to making your favorite food which was always apple pie. The memories I have shared with you while growing up by your side, it was well worth the struggles and bumpy rides.
I look at you know and can't stop smiling, for a beautiful grown boy/girl that you have become, no matter what you will always be my baby boy/girl, happy birthday and may this be another memory you will never forget like they first day we met. When you were born on this special day.
Birthday speech example 10 – 1st birthday speech from mother
Even though your only one and you're probably staring at me thinking what it this lady doing, my feeding time is soon. I am going to say this speech in front of all the family friends that are gathered here today to celebrate my child's 1st birthday, where the fun times just keep getting better and better.
I remember the first day that I felt so sick and then after that my pants wouldn't fit. I started eating everything in sight and my pantry would always start full and now and by night there was nothing left to right. After that I couldn't sleep and I would become a grump in the morning which was nothing of the unusual Ha-Ha.
Then my feet started to swell jeez now I can't find shoes that will fit well. So after all that complaining and whining, the day came where you were brought into this world. Your father had fainted, which was nothing unusual and all I cared about was that you were finally out!
Now, as we celebrate your 1st birthday, you don't understand anything right now, but when you do I'll be saying another speech like this to embarrass you. More for the loving mother that I am to make sure you never forget something so important like this day.
Birthday speech example 11 – From father to son
I guess I will start with most that I know and the beautiful things I remember. I was the happiest man when I found out you were a boy, I was filled with joy! Everyday I would buy my little man a different toy, but there was a problem. Instead of playing with them, I would find you out in the garden. Eating dirt, mud, insects and even snails. You weren't very good at hiding your muddy trails. How sweet and cute that was.
Then you would complain of feeling sick. Sometimes you were so difficult, just like trying to use a chopstick. You would always cry when I tried to feed you, and you loved to pee on me when I tried to change you. You were a sneaky little bugger and you loved to touch. I even remember having to pull you away from someone's crotch. These are the beautiful memories that I remember.
Though enough with me embarrassing you with these funny times, this is you birthday so let it be filled with great times. So happy birthday to my great son, never forget that you are my number one!
Birthday speech example 12 – From friend
On this milestone that you have achieved, what an honor it is to be sharing this celebration with you. As we all know, this person has been determined since they were little, to strive and be the best they can, no matter what the circumstances were.
As (Insert name) continued to grow and mature, they created beautiful memories by making each moment count and radiating the love filled passions to each one that they came across. Im sure we can all say that we are eternally grateful that you have came into our lives and that you never lose your zest for life as you grow up into adulthood.
We all love you dearly and wish you nothing but the absolute best as that is what you truly deserve. Happy birthday!
Birthday speech example 13 – 21st Funny birthday speech from friend
Can I have your attention. We are all here today to realise something special. Something so worthwhile to celebrate. Something fun, enjoyable and memorable. We have come here together to recognise and share in the joy this moment brings. I am talking about the open bar! Ha-Ha!
On a more serious note, I would like to draw your attention to one of my best of friends whose 21st birthday we are celebrating here tonight. I have known (Insert name) for more than 10 years and during that time, we have had many moments of fun, adventure and as many of you may know, mischief. Whenever together, we always seemed to find a way to get ourselves into trouble.
Just like the time we decided to play a trick on his mom by colouring in his younger brothers face an interesting shade of green. We took the time to make it look realistic and ensured it was with a permanent marker so it couldn't be easily rubbed off. I remember the look on his mom's face as she freaked out and rushed the brother to the hospital. After the doctor giving it the once over and explaining to his mom the cause of the problem. I remember her glaring at us in a trance like state. Lets just say I had never seen someones face go that red before. We both found it to be funny at the time though I don't think he saw the light of day for at least a month after that incident. Ha-Ha
Anyone who knows him, knows that he will go out of his way to ensure everyone is having a laugh. Even at his own expense, he wants to ensure everyone is having a great time.
He has taken on many challenges, and succeeded many times. Not by chance, but by perseverance and heart. Anyone who knows (Insert name), knows he is full of heart.
So on this milestone may you continue to strive for all that you want and just wanted to let you know that I am grateful to have such a great friend like you. Happy Birthday.
Birthday speech example 14 – 21st birthday speech
Yay! Im finally legal! Wow, this has been a long time coming for me, I mean now i can have a drink… Legally! Ha-Ha! Mum doesn't seem to impressed!
Firstly I'd like to give a massive shout out to my parents, for not only raising such an awesome child, Ha-Ha! But also for making me who I am, and making this beautiful day happen. To my beautiful family members who cooked up all this beautiful food and helped to decorate this place, thank you so much, it looks absolutely beautiful.
To my wacky and crazy friends. You are all a bad influence on me and I thank you for that. Don't worry mum, i'm only joking… It's more like the other way around… Ha-Ha! As I get older, I begin to appreciate the significance of true family and friends in one's life. I have to say that I couldn't consider myself any luckier to have all of you in my life.
So anyway, let's get out the champagne and celebrate my 21st birthday!
Birthday speech example 15 – 40th birthday speech
I can't believe my 30's have left me… I think it's about time I started acting more serious and more so, my age… Well, maybe after tonight…
I remember when I was much younger, I would look at someone who was 40 and say to myself, that's an old person. Now that I have turned the big 4-0! I now realise it was just an old person who was trying to figure out where the hell all the time went! Ha-Ha! I guess time flies when you're having fun. Well I Know it's definitely true for me. I'll tell you why.
Firstly I have an amazing wife who is nothing but a bundle of joy to be around, and is able to always find a way to put a smile on my face.
Secondly I have been blessed with two beautiful boys who are an absolute pain in my ass, Ha-Ha! Though I do love so dearly! Apart from my gorgeous wife, I never thought I would love these boys so much, as much as I do. It must be because they remind me so much of me when I was growing up… Ha-Ha!
And thirdly… To all of you beautiful people standing here before me today. How can I not enjoy having each and every one of you in my life. I mean how lucky can a man get to have such funny, supportive and caring friends. Blessed is the word I use to describe having all of you be apart of my journey through life. Thank you all for being here today. Its is honestly an honour to celebrate this day with all of you here tonight.
Anyway, enough with all this sentimental crap, let's pump the music back up, all grab a drink and at least let me celebrate being 39 one more time! Ha-Ha! Thank you!
Birthday speech example 16 – 50th birthday speech
Wow, how time flies! It's only yesterday I can remember starting my first job at McDonalds where I met my best friend. And now I have a glass of champagne in my hand, celebrating my 50th birthday in front of all of you amazing people.
Where do I start? Firstly I need to give a massive shout out to my beautiful wife who made tonight happen. To not only organise all of this, but also keep it a secret from me which I am blown away how much effort she put in. The amount of detail she has put into this venue is incredible. Such an amazing woman, and I mean look at her, even after all these years, she is still a stunner!
To my two boys, I am proud of both of you and must say you are both still a pain in my ass. Must be because you remind me of when I was a kid growing up. Ha-Ha, they do say that karma eventually comes around. I can now understand what I put my parents through when I was growing up! But jokes aside they a great boys and couldn't wish for any better.
Obviously I need to give a shout out to mum and dad for putting up with me over my younger years. Considering i'm sure many of you agree, I was no angel growing up. I like to think I turned out alright. Ha-Ha! Though I do have to say they were always there for support and was truly blessed to have incredible parents. I love you both.
To all my close family and friends here tonight. Thank you all for coming and most importantly, thank you for being apart of my life. All of you, in one way or another have been apart of my incredible journey of being 50 years on this earth and I wouldn't want it any way.
So everybody grab a drink and let's turn this music up, because i'm pretty sure you will all agree that after all these years and crazy memories, who would have known I would have made it this far. Ha-Ha! Thank you all for coming and hope you enjoy your night. Thank you!
Birthday speech example 17 – From daughter to fathers 50th birthday speech
For those of you whose memories are fading or may have had a little too much to drink tonight, we are here to celebrate the birthday of my dad. Fifty years ago today, the world was given a great gift. A gift by the name of (Insert name). The first of three children, my father was and still is, a very funny and generous man. Throughout the years, he has told many of us his overly simplistic, corny jokes which keeps us all laughing to this day. Just earlier he told me a joke and had me giggling like a little girl again. He said "What do you call a cheese that's not yours? Nacho Cheese!". I know, corny right? But it still does the job.
I suppose the main reason why we all have a little laugh and look forward to his humor is that he always likes to remind us that life is not meant to be taken too seriously and that laughter helps to keep us grounded. To this day, I have incorporated this philosophy into my life and I am sure all of us look forward to the energy and humor that he gives us.
Married to his high school sweetheart for 28 years, and with two pretty awesome kids, Ha-Ha. Sorry but I had to add that in. He has shown to be the best role model any family could ask for.
He has always been one to lend a helping hand to anyone in need and is not shy to have a casual drink when in good company.
On this birthday, may you enjoy your night and continue to pass on your energy and happiness for many more years to come. Happy birthday dad!
Birthday speech example 18 – 60th birthday speech
I can't believe that as I stand here before you, I have been on this earth for 60 years. Seems like a long time, though for me, it feels like only yesterday I was celebrating my 21st birthday. I ought to cut out drinking or before I know it, i'll be 100 soon. Ha-Ha!
For me, I have experienced both the joys and miseries of life and through it all, I have been able to take one thing from it. Regardless of life's ups and downs, its all about making the most out of each situation and being present in the moment. Because as I get older, I begin to appreciate all of the moments life has to offer and the truth of the matter is that nothing is owed to us. For every day we wake up is a blessing. And as I am now 60 years old and CONSIDERED wise… Ha-Ha! I feel that we should make the most of each passing day, and what better way with both family and loved ones.
Lucky for me, I have been extremely fortunate to have all of my nearest and dearest to me all here tonight and I have to say, I wouldn't want to have tonight any other way. Although it may be the wine talking, I must say that I love each and everyone of you here tonight… Especially the caterer, the food served here has been delicious! Ha-Ha! Now let's all embarrass ourselves by having a few more drinks and getting on the dance floor!
Birthday speech example 19 – From daughter to mother
Your loving touch is like no other, your smile is brightest of all. Your heart beats love and care, but sometimes truth be told you are unfair. You are the only best friend a daughter could ask for. The sacrifices you have made to make sure I have the right path of guidance. You are the best mother a daughter could ever have. Wishing you a happy birthday with many more fun filled ones to come.